STREET MUSEUM PRAGUE
Inspired by Velvet Revolution
The Velvet Revolution Project is a project of enthusiasts who share a common belief that the legacy of the Velvet revolution has not lost its importance. We have all been influenced by the idea of life of freedom and truth. The Velvet Revolution originated on the streets of Prague and the main players were common people. Therefore, the project is situated on a street and is open for anyone who passes by.
The Velvet Revolution project consists of two parts:
The first is Velvet Revolution Street which is situated in the narrow Stříbrná Street in Prague 1. There you can find a collage inspired by the Velvet Revolution. Visitors can also get acquainted with the historical milestones which lead to this historical event. The second is the Velvet Revolution Street Museum shop on Náprstkova Street nearby, with stylish souvenirs and gifts.
The goal of our project is to promote Czech culture and history and to raise awareness of events that shaped our country.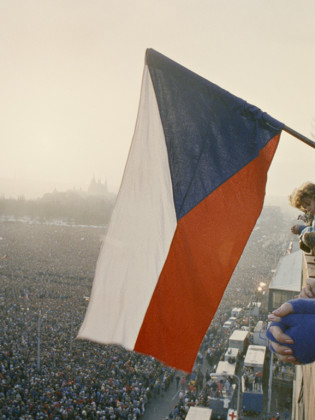 STREET MUSEUM PRAGUE
Revolutionary. Peaceful. Free.
The Velvet Revolution Street Museum project is an open-air gallery. We would like to create a place for everybody who feels connected with the Velvet Revolution legacy. We would like to introduce the Velvet Revolution to Prague visitors, because without it they might not have been able to visit Prague. We would also like to address the younger generation that might not be familiar with this historical milestone.
The Velvet Revolution Street Museum presents the period of the Velvet Revolution in the former Czechoslovakia in November 1989 and the days and weeks that followed. It is inspired by the Revolution's ideas and desire for change, freedom and love.